Mach 4 Water
The World's First Bio-Sustainable Water Products

Your body needs high-quality Mineral Water:
By drinking a "Healthier" Oxygenated Mineral Water your body Naturally becomes  capable of systemically preventing or reducing  minor ailments such as:
Headaches
Muscle Fatigue
Ulcers
Morning Sickness
Reduced Energy
Arthritis
Hypertension
Asthma
This Product has not yet been approved by the FDA
to diagnose, treat, cure or prevent any disease or medical condition.
"You should consult your doctor prior to use"
Mach 4 Water
Our Mineral Water History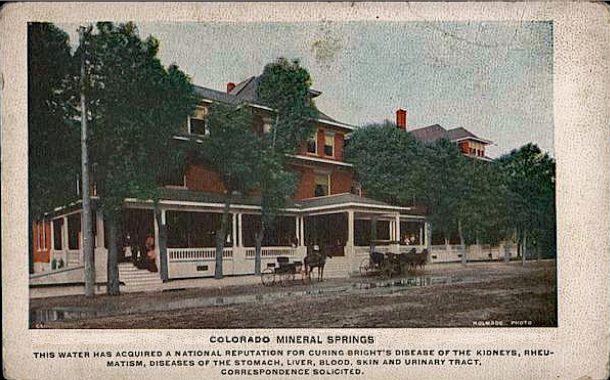 Mach 4 Water was originally founded in 1998 however our mineral water history in Colorado Springs dates back to 1879.
To the right is a copy of an original Post Card from 1907. Although on the front you can clearly see the therapeutic health claims, the back of the card is more detailed. (See below)
1879: In 1879 a group of Pennsylvanian Business men traveled west to Colorado drilling for new oil wells. While prospecting for oil in the Colorado Springs area they struck water while drilling at about 1,400 feet deep.  Originally disappointed, not striking oil, the workers started drinking the water every day and began to proclaim its medicinal prowess and therapeutic attributes for healing ailments.
THIS WATER HAS ACQUIRED A NATIONAL REPUTATION FOR CURING BRIGHT'S DISEASE OF THE KIDNEYS, RHEUMATISM, DISEASES OF THE STOMACH BLOOD, SKIN AND UNARIY TRACK.  CORRESPONDENCE SOLICITED